Beachfront Resort
Boutique beachfront resort with personalized concierge service featuring 12 oceanfront condos and 3 poolside condos with full kitchens, a dive shop, bar and restaurant. Clean, air-conditioned, free WiFi, cable, and more.
Nauti Crab Bar and Restaurant
Formerly Crazy Canucks, visit our on-site bar featuring the world-famous Crab Races! Or enjoy our menu right on the beach.
Coming Soon!
Belize Parasail Plus
A Gold Standard tour operator located right on property offering Parasailing, Snorkeling, Reef Fishing, Beach BBQ, Deep Sea Fishing, Scuba, and Private Charters.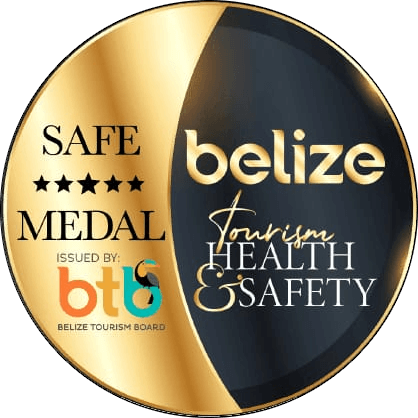 Gold Standard Resort
The Belize Tourism Board has launched the "Tourism Gold Standard" Recognition Program for hotels in the country. This 9-point program seeks to enhance the tourism industry's health and safety standards by adapting new behaviours and procedures to ensure both employees and travellers are confident in the cleanliness and safety of Belize's tourism product.
Everyone at the place was super nice and helpful. Clean our room everyday and changed linens often. Close to wonderful restaurant and close to shopping for groceries or shopping for things. We was there for 14 days and would sure go back in the furture.
Kylie Walker
The PERFECT spot in San Pedro! This is our 3rd time staying at Seven Seas Resort in San Pedro. It's the perfect spot: right on the water, a few steps to multiple over water palapa bars, and just a couple blocks from 'downtown' San Pedro. You dont need a cart to stay here unless you want to cruise up and down the island, which is FUN! Aug 2019 The owners are there and made our stay perfect. There is a dive shop on their pier. Fishing charters leave from the pier as well. If you need a cart rental, they can arrange that too. The rooms are clean and cold..Even though we didnt spend much time in them. They have clear kayaks for their guests as well as paddle boards! Cant wait to go back!!!
Sonia Nolan